Music Academy Online Advisors
David Schwartz, Founder and President

David received his Ph.D. in composition from the University of California, Santa Barbara, where he studied with William Kraft. While music has always been a central part of his life, he did not receive a formal music education until he was in his early twenties. After receiving a Bachelor of Arts in philosophy from Tulane University, he earned a Bachelor of Music in theory and composition from the College of Music, Loyola University of New Orleans, where he studied composition with Sylvia Pengilly and Stephen Dankner. He went on to receive a Master of Music in composition from Cleveland State University where he was a student of Greg D'Alessio. Additional studies include compositional procedures for electronic and electro/acoustic music with Curtis Roads; film composition with Richard Bellis; and music history with Judith Eckelmeyer. His music history studies include extensive research on Gustav Mahler.
David has taught composition and music theory at the college level; performed both as a drummer in music clubs and as a percussionist in concert halls; worked as a music copyist and a composer's assistant; lectured; and prepared program notes for professional chamber music recitals. He especially enjoys reaching out to non-musicians with the goal of stimulating interest in Western art music and has created and taught music appreciation courses for adults. His compositional work includes acoustic, electro/acoustic and electronic compositions as well as rock songs. In 2001 his Trio for Clarinet, Marimba and Tape received an Ojai Music Festival Young Composer Award. His scores are available through his publisher, Fashion Lighter Music. David has a wide range of interests that include history, literature and philosophy.
He will eventually write a book about the symphonies of Gustav Mahler.
Watch an interview with David as his Second Life Avatar, Benton Wunderlich,
talks about Gustav Mahler's music.
Watch an interview with David as his Second Life Avatar, Benton Wunderlich,
talks about the Music Academy Online facilities and goals in the
immersive 3D world.
Eve McPherson, Director of Online Content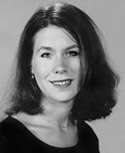 is currently a doctoral candidate in ethnomusicology at the University of California, Santa Barbara. Additionally she holds a master of music in vocal performance from UCSB and a master of arts in ethnomusicology from Tufts University. Her areas of research are timbre, Islamic recitation practices, and twentieth-century American opera. She is the recipient of a Fulbright-Hays Doctoral Dissertation Research Abroad grant (2005-2006), FLAS fellowships, and a grant from the Institute for Turkish Studies, and from the UCSB graduate division. As a performer, she has appeared with companies throughout the United States.
Watch Benton's interview with Eve and learn about her time in Turkey,
plus hear some 'beautiful voices'.
Judith A. Eckelmeyer, Contributing Scholar

is Professor Emerita at Cleveland State University, where she was administrator of the Graduate Program in Music and head of the Music history area. She has taught a wide variety of subjects, primarily in the sphere of music history and musicology. She has applied interdisciplinary approaches to the study of music history in many of her courses including seminars on Gustav Mahler and his Vienna, and Symbolism and the symbolist movement in music. In 1990 she initiated an Internship Program in Teaching College Music and has since guided nearly two dozen graduate students through the program. She has been program annotator for the Cleveland Museum of Art's Gala Subscription Series and Mondial concerts from 1981 to 2004. She has directed the Cleveland State University Collegium Musicum vocal ensemble from 1993 to 1998, and founded and directed the Cleveland Choral Union, a community-based chamber choir, from 1983 to 1993. Her two-volume monograph, The Cultural Context of Mozart's "Magic Flute", was published in 1991 by the Edwin Mellen Press; her scholarly articles have appeared in The Musical Quarterly and The Music Review, among others. She received her Ph.D. from Syracuse University.
The Cultural Context of Mozart's Magic Flute
By: Judith A. Eckelmeyer
Joanna Wulfsberg, Contributing Scholar

graduated from Wellesley College with degrees in music and architecture. She then earned a masters in musicology from the Eastman School of Music and is currently ABD in musicology at Eastman. Her performance background is in voice and piano, and she performed lead roles in operas at both Wellesley and Eastman. Her research subjects include Viennese Classical operas and Western classical music in twentieth-century Turkey. The latter interest led her to Istanbul, where she has been teaching English and music for a year. When she is not teaching or writing, she enjoys exploring historic neighborhoods and watching Turkish pop videos.
Kathy Meizel, Contributing Scholar
is a Ph.D. candidate in Ethnomusicology at the University of California, Santa Barbara. Her areas of research have included popular music, Sephardic song, and cross-cultural vocal practices. She has also received masters and doctoral degrees in vocal performance, from the San Francisco Conservatory of Music and UC Santa Barbara, respectively.
Currently she is writing her dissertation on the television show "American Idol."
Dave Djernaes, Contributing Scholar
is currently a Ph.D. candidate in composition at University of California, Santa Barbara, where he will finish in the spring of 2006.

When people ask what kind of music I write, I usually say, "pleasant avant-garde art-music." Although that is kind of vague, I can trace elements of my aesthetic to pretty much everything that influenced my listening in the past. It may be hard for a general listener to place them at any given moment, since they become rather abstract interpretations of the originals, but my strongest influences have been 20th/21st century art music, 70's jazz fusion, and various strains of metal stylings (hardcore/speedcore/thrashcore/mathcore). Naturally, the end result is an esoteric blend of sound, but I try to keep it interesting and engaging.

The guitar is my main instrument and I have been a classical guitarist for the last 14 years, but I have been playing guitar for about 20 years total. I began on the classical guitar, but played jazz and rock in high school and then circled back to the classical guitar as an undergrad. Five years ago, I added the electric bass to my repertoire and have been an avid student of R & B and jazz bass ever since.

In my free time I can usually be found on one of the local golf courses, where I am currently training to join the PGA Seniors Tour. I figure in 25 years, when I'm old enough to join them, I might be able to give those guys a run for their money.
Muriel Gibala-Maharidge, Contributing Scholar

was born and raised in the Lorraine region in Northeastern France. Her music education started at the age of 7, when she entered the local conservatory. After the mandatory 10-year curriculum, she graduated in oboe performance, chamber music and ear training/music theory. She deepened her experience in these subjects by entering the National Conservatory of the Region of Metz, where she also took lessons in orchestral and choral conducting, music analysis, piano, harp and voice. Meanwhile she pursued and obtained a specialized degree in Musicology at the University of Metz, founded her own choral ensemble, and performed with various instrumental and vocal ensembles. She was also hired by local schools to teach musicianship, oboe, and music education courses.

In the summer of 1998, while participating in a conducting master class with Pr. Michel-Marc Gervais, she became very interested in his research on the use of non-verbal communication and of the Laban movement analysis in the field of choral conducting. She decided to pursue a career as a choral conductor and to apply to the University of California at Santa Barbara to engage in graduate studies with Pr. Gervais. With the help of a scholarship from the Rotary International Foundation, she was able to register at UC Santa Barbara for the fall of 2001. Four years later, Muriel graduated with her Doctorate of Musical Art. Although she had originally planned to return to France upon graduation, she now intends to remain in the USA, where she has met her husband, to continue her research in conducting pedagogy and on the history of choral conducting, and hopefully found her own ensemble.

Muriel currently lives with her husband in upstate New York.
Kathy Western, Interdisciplinary Research
graduated from the University of Georgia with a bachelor's degree in history. She then received an assistanceship from the Center for Business and Economic Research of the state of Alabama to study marketing at the University of Alabama/Tuscaloosa. While working for CBER she was awarded a scholarship to study economics at Chiba University in Japan. Following graduation, Kathy was employed by the Montgomery Area Chamber of Commerce as an information analyst within the division of economic development. After becoming a military wife, she has taught piano on various military installations and performed at numerous military functions.
Currently she resides in Dover, Delaware with her husband and three children.